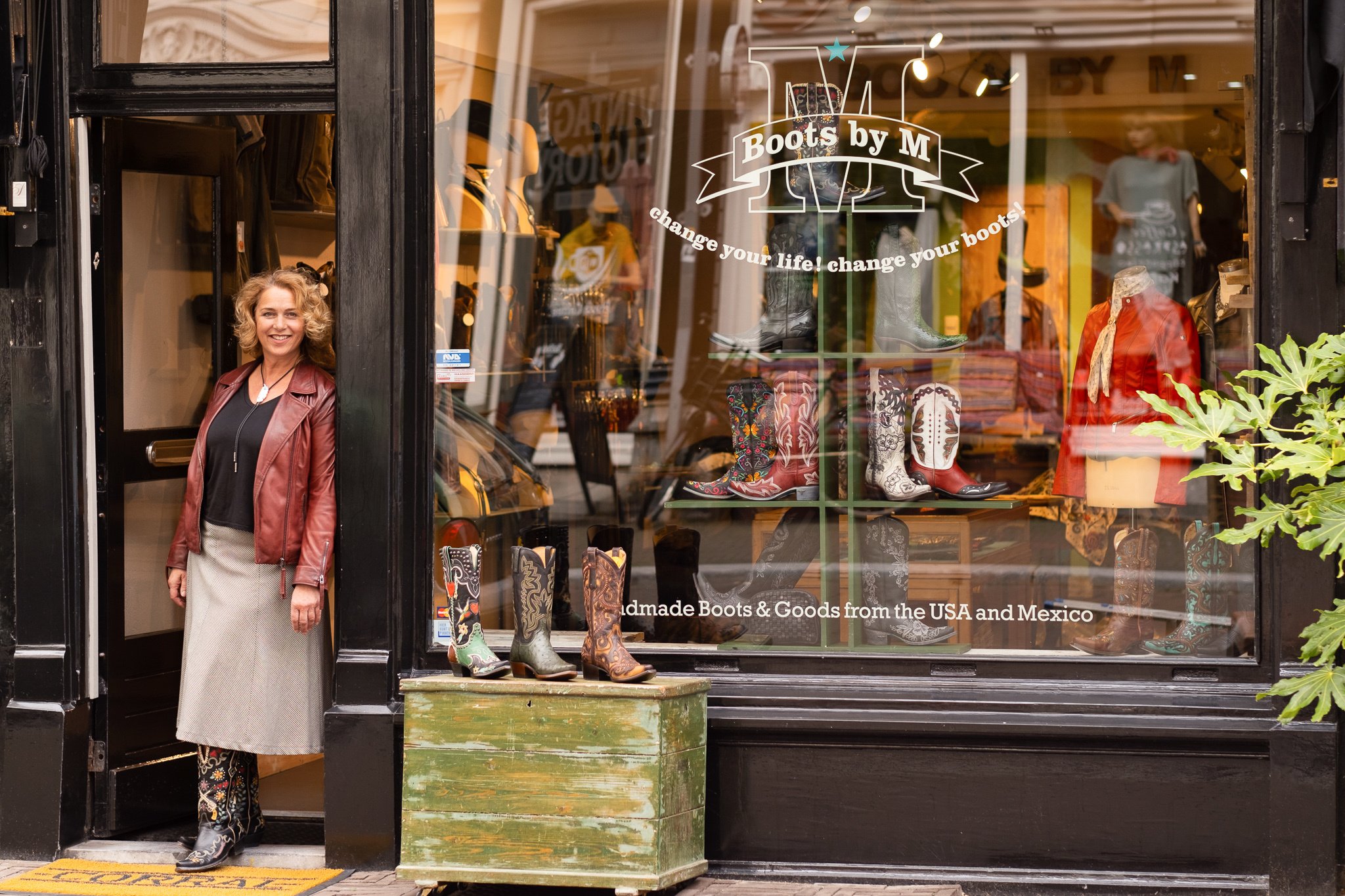 Boots by M is the specialist in handmade cowboy boots. Our collection consists of the very best cowboy boots from the best American and Mexican brands. All our women's and men's boots are made of high quality materials. They are selected and imported by us with care and love. We only choose boots where traditional craft is woven with modern techniques. Whether you have been a boot lover for years or are looking for your first pair, we are here to help you find the perfect boots. At Boots by M, you'll find boots to suit every occasion and season. Come visit us on the Noordeinde in The Hague, in the only physical cowboy boot store in the Netherlands, or shop worry-free online at bootsbym.nl.
Exclusive collection put together with passion
Each pair of cowboy boots from Boots by M is handmade and crafted from the finest materials and leathers. Just as wearing cowboy boots is a part of American and Mexican culture, the passion for craft and the attention to detail is in the DNA of the brands we carry. In our store, you'll find boots from Old Gringo, Corral, Double D Ranch, Macie Bean, Lane and Circle G, among others - all established bootmakers known for their quality and style. As the only European retailer of many of these brands, you'll always buy something special from us. Our collection includes timeless classic boots as well as exceptional designs with detailed crafting. Some of our cowboy boots combine traditional craftsmanship with the latest technologies such as laser cut leather and impressive embroidery. They are sometimes true pieces of art. It is the combination of tradition and innovation that guarantees you will enjoy your cowboy boots for years to come.
Unique shopping experience in The Hague and worry free online shopping
Boots by M is the only physical cowboy boot store in the Netherlands. Our cozy and bold store was founded in 2012 by Marian van Exel, a bootlover herself from her youth. Add to that a love for leather, fabrics ánd America, combined with guts and entrepreneurship and there you have the birth of her own business. Since then she and her team have been running the delicious leather smelling store in The Hague. Boots by M knows like no other how to attract people who share the love of boots. When you walk in, all your senses are stimulated. Once you try on a pair of boots, you are hooked. And it's love for life we know from experience. Besides a unique collection of cowboy boots, at Boots by M you will also find beautiful leather jackets, coats, bags and special Western accessories. Each pair of boots in our Boots by M collection is carefully and lovingly selected and imported by Marian. Because of this, boot lovers from all over the world - as well as famous Dutch people - succeed in our store. You will find our store in the 'Royal Shopping District' of The Hague. A special district full of unique stores, restaurants and galleries. We are located at Noordeinde number 100 next to the work palace of King Willem- Alexander. You can't just go in there, but at our place the door is always open. Store online at bootsbym.nl 24/7!
Customized service for a perfect fit
Comfort and style go side by side with us. Our American and Mexican boots are handmade on a last with a Goodyear welt and are known for their comfortable fit. Our collection runs from size 36 to 42 for women and 42 to 47 for men, in half sizes. We understand that everyone is unique and we can sometimes import models and sizes for you that we do not offer as standard in our collection. Looking for a boot for a wide foot or a high instep? We have the expertise to advise you properly. For every occasion there is a cowboy boot that suits you. A festival boot, a wedding boot or a boot for a business outfit we have them all!
Whether you visit our stylish store in The Hague or store at bootsbym.nl, we will help you with attention and care in your search for the perfect pair of cowboy boots. In our webshop you shop carefree at your convenience. Boots bought online are always shipped insured. Shipping to the Netherlands, Belgium and Germany is even free.
Are you looking for your first pair of cowboy boots or are you an experienced boot wearer, you will find your boots at Boots by M. Visit our store in The Hague or shop our special collection 24/7 online. We are here to help you with enthusiasm, dedication and craftsmanship. Explore our collection and find a pair of boots you will instantly fall in love with!
Opening hours
Click here for our opening hours
Contact details
Boots by M
Noordeinde 100
2514 GM The Hague
Visit our store
Telephone: =31 70 346 39 55
E-mail: [email protected]